Loyal. Photo submitted.
The Knights of Columbus hosted their annual Free Throw Contest at the Stanley Boyd High School Gym on Sunday, February 19th beginning at 4 pm. Boys and Girls ages 9-14 participated in the free competition organized by Tom and Lynn Hause. First place winners will advance to the next level of competition on March 26th at 1 pm at Columbus Catholic High School in Marshfield, Wisconsin.
Shown left to right are Emmett Breuch, Baylor Goettl and Kroix Steinbach with their medals.
Photo by Danielle Boos.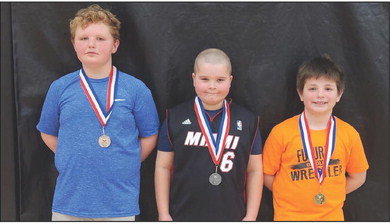 Winners of the Knights of Columbus 2023 Free Throw Contest. In back (from left) are Sawyer Boos, Alaina Nitz, Ella Nitz, Kaynen Steinbach, Dayne Hazelton (middle row) Lance Kelly, Harley Geist, Sam Nitz, Blake Thiebedau, Zander Kelly (front row)Baylor Goettl, Kroix Steinbach Not pictured Emmett Breuch. Photo by Danielle Boos.